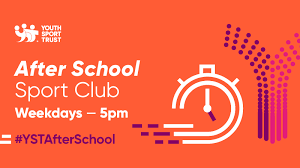 As we are unable to offer after school clubs at this time we would like to make you aware of some online clubs that have started.

The Youth Sport Trust have taken the step to deliver a free virtual after school club as part of a
national response to the second lockdown. The 30-minute club will take place at 5pm each weekday and be led by a different member of the YST's athlete mentor network. The first one aired on Thursday with world no.1 female inline skater and 10-time British Champion Jenna Downing. The After School Sport Clubs will run for five weeks until December 18th and children and young people can take part live by visiting their YouTube
channel.
http://www.youtube.com/user/YouthSportTrust

Aimed mainly at primary-aged children, a different theme has been assigned for each day of the club - Adventure Monday, Tuesday Play, Wild Wednesday, Thinking Thursday and Fun Friday. If anyone tries them out and enjoys them please let us know and we can pass your feedback on to others.